JAX-RS Example of Multiple Resource Formats
This article will describe how a RESTful web service produces multiple output formats.  In the previous articles we came across how a RESTful service produces either XML or JSON alone as an output, but in this article i will show you what are the changes or steps need to be followed to let the rest service to produce multiple output formats from a single method, its the real time way of creating the services.  Before you start reading this article, just have a look at the following articles for better understanding.
Exactly, exactly this current example is the combination of above two articles 🙂 I am just copy & pasting those articles and doing some changes here that's it.
Required Files
pom.xml
web.xml
Customer.java
JsonFromRestful.java
RESTfulClient.java
Directory Structure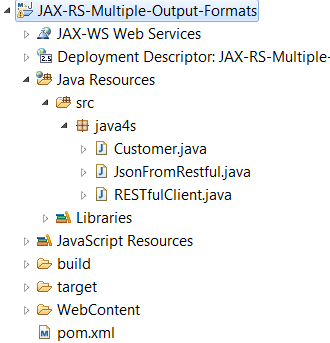 pom.xml
<project xmlns="http://maven.apache.org/POM/4.0.0" xmlns:xsi="http://www.w3.org/2001/XMLSchema-instance" xsi:schemaLocation="http://maven.apache.org/POM/4.0.0 http://maven.apache.org/xsd/maven-4.0.0.xsd">
  <modelVersion>4.0.0</modelVersion>
  <groupId>JAX-RS-Multiple-Output-Formats</groupId>
  <artifactId>JAX-RS-Multiple-Output-Formats</artifactId>
  <version>0.0.1-SNAPSHOT</version>
  <packaging>war</packaging>
 
    <repositories>
           <repository>
             <id>maven2-repository.java.net</id>
              <name>Java.net Repository for Maven</name>
              <url>http://download.java.net/maven/2/</url>
              <layout>default</layout>
           </repository>
    </repositories>
 
    <dependencies>
           <dependency>
                <groupId>junit</groupId>
                <artifactId>junit</artifactId>
                <version>4.8.2</version>
                <scope>test</scope>
           </dependency>
    
           <dependency>
                <groupId>com.sun.jersey</groupId>
                <artifactId>jersey-server</artifactId>
                <version>1.8</version>
           </dependency>
           
           <dependency>
                <groupId>com.sun.jersey</groupId>
                <artifactId>jersey-json</artifactId>
                <version>1.8</version>
          </dependency>
           
           <dependency>
                <groupId>com.sun.jersey</groupId>
                <artifactId>jersey-client</artifactId>
                <version>1.8</version>
           </dependency>
    </dependencies>
 
    <build>
       <finalName>JAX-RS-Multiple-Output-Formats</finalName>
       <plugins>
          <plugin>
              <artifactId>maven-compiler-plugin</artifactId>
                 <configuration>
                    <compilerVersion>1.5</compilerVersion>
                    <source>1.5</source>
                    <target>1.5</target>
                 </configuration>
           </plugin>
       </plugins>
    </build>
</project>
web.xml
<?xml version="1.0" encoding="UTF-8"?>
<web-app xmlns:xsi="http://www.w3.org/2001/XMLSchema-instance" xmlns="http://java.sun.com/xml/ns/j2ee" xmlns:javaee="http://java.sun.com/xml/ns/javaee" xmlns:web="http://java.sun.com/xml/ns/javaee/web-app_2_5.xsd" xsi:schemaLocation="http://java.sun.com/xml/ns/j2ee http://java.sun.com/xml/ns/j2ee/web-app_2_4.xsd" id="WebApp_ID" version="2.4">
  <display-name>JAX-RS-Multiple-Output-Formats</display-name>
  <servlet>
        <servlet-name>jersey-serlvet</servlet-name>
        <servlet-class>com.sun.jersey.spi.container.servlet.ServletContainer</servlet-class>
        <init-param>
          <param-name>com.sun.jersey.config.property.packages</param-name>
          <param-value>java4s</param-value>
        </init-param>
        <init-param>
          <param-name>com.sun.jersey.api.json.POJOMappingFeature</param-name>
          <param-value>true</param-value>
        </init-param>
        <load-on-startup>1</load-on-startup>
  </servlet>
 
  <servlet-mapping>
        <servlet-name>jersey-serlvet</servlet-name>
        <url-pattern>/rest/*</url-pattern>
  </servlet-mapping>
</web-app>

Customer.java
package java4s;

import javax.xml.bind.annotation.XmlElement;
import javax.xml.bind.annotation.XmlRootElement;

import com.sun.xml.txw2.annotation.XmlAttribute;

@XmlRootElement(name = "customer")
public class Customer {
    
    private int custNo;
    private String custName;
    private String custCountry;
    
    @XmlAttribute
    public int getCustNo() {
        return custNo;
    }
    public void setCustNo(int custNo) {
        this.custNo = custNo;
    }
    
    @XmlElement
    public String getCustName() {
        return custName;
    }
    public void setCustName(String custName) {
        this.custName = custName;
    }
    
    @XmlElement
    public String getCustCountry() {
        return custCountry;
    }
    public void setCustCountry(String custCountry) {
        this.custCountry = custCountry;
    }   
}
JsonFromRestful.java
package java4s;

import javax.ws.rs.GET;
import javax.ws.rs.Path;
import javax.ws.rs.PathParam;
import javax.ws.rs.Produces;

@Path("/customers")
public class JsonFromRestful {
    
    @GET
    @Path("/{cusNo}")
    @Produces("application/xml,application/json")
    //@Produces(MediaType.APPLICATION_JSON)
    public Customer produceCustomerDetailsinJSON(@PathParam("cusNo") int no) {
        
        Customer cust = new Customer();        
            cust .setCustNo(no);
            cust .setCustName("Java4s");
            cust .setCustCountry("India");
        return cust;
    }
}
RESTfulClient.java
package java4s;

import com.sun.jersey.api.client.Client;
import com.sun.jersey.api.client.ClientResponse;
import com.sun.jersey.api.client.WebResource;

public class RESTfulClient {
    
    public static void main(String[] Java4s) {
        
        try {
            Client client = Client.create();    
            WebResource resource = client.resource("http://localhost:2015/JAX-RS-Multiple-Output-Formats/rest/customers/100");    
            ClientResponse response = resource.accept("application/json").get(ClientResponse.class);
            
            if(response.getStatus() == 200){
                
                String output = response.getEntity(String.class);
                System.out.println(output);    
                
            }else System.out.println("Somthing went wrong..!");        
    
          } catch (Exception e) {    
                  e.printStackTrace();    
          }
    
        }   
}
Execution & Output
Eclipse > right click on

RESTfulClient.java

>

Run As

>

Run on Server

As per above program it will give you the JSON output

​ ​​
You Might Also Like
::. About the Author .::