How to Install JadClipse Plugin in Eclipse ?
Today i will show you how to install JadClipse plugin in your Eclipse IDE. The main purpose of JadClipse is to decompile Java class files to source files in Eclipse. If you want to do so you must have JadClipse plugin installed and enabled in your eclipse.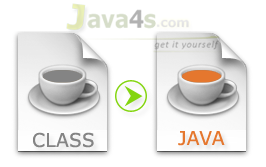 Steps to Install JadClipse Plugin in Eclilpse
Download

JadClipse

plugin from sourceforge
Copy downloaded JadClipse

JAR

into '

plugins

' folder of your Eclipse

Restart

your eclipse
Download

JAD

from varaneckas, once downloaded just

unzip

it, which gives you an executable file [ jad.exe ] and

Readme.txt

Windows > Preferences > Java > JadClipse : Give the 'jad.exe' path in 'Path to de-compiler' > Click on Apply and Ok
Once again go to Windows > Preferences > General > Editors > File Associations > In the right side select '*.class' > Now in the bellow window select JadClipse Class File Viewer as a default file association
If you didn't find 'JadClipse Class File Viewer' in Associated editors window, click on Add > select 'JadClipse Class File Viewer' from that list and make it as a default viewer > Ok

That's it you did it.
Errors to be expected while installing JadClipse
Q: JadClipse plugin is not working [ activated ] even after you started your eclipse ?
Solution:
Open command prompt
Navigate to your eclipse base folder
Run this command 'eclipse -clean'
You did it, now you will be able to view JadClips plugin is now activated in your eclipse.
If you still getting any errors just let me know, i can help you to fix them sooner.
​ ​​
::. About the Author .::