Spring AOP Pointcut Example
let us describe regarding spring AOP pointcut, for what methods what services need to be executed will be taken care by pointcut. A pointcut defines what advices are required at what join points.  In fact all business methods of a class doesn't require all services.  So a pointcut informs to the IOC container that what business methods of a class needs what type of services.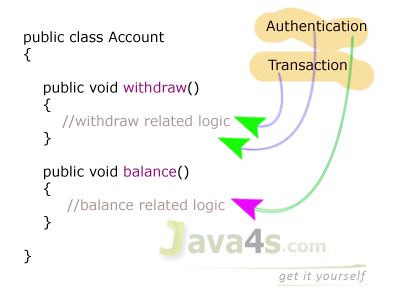 withdraw() method needs Authentication,Transaction services but balance() method needs Transaction service only.
We have 2 types of pointcuts in AOP
Static

Pointcut

Dynamic

Pointcut
Will see Static and Dynamic Pointcuts in detail.
​ ​​
You Might Also Like
::. About the Author .::